Support #1856
Coding of currently on maternity leave
Category:
Data documentation
---
Description
Hi,
It seems as if the coding for currently on maternity leave changed after wave 5. Would you be able to tell me what -10 refers to in wave 5 per the below as it is not defined in the variable search as relating to a result.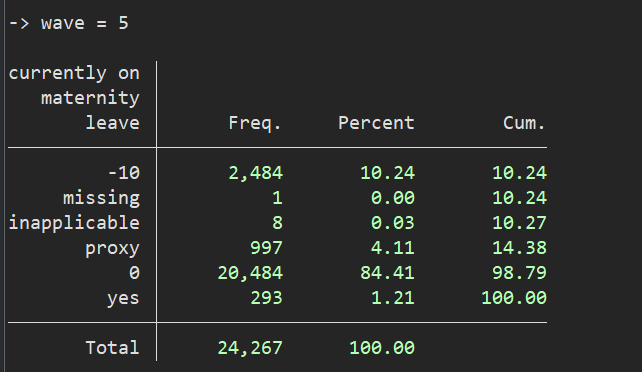 ---
Files
Hello Cara,
Are you working with variable w_matleave? If this is correct I just checked wave 5 and don't see and -10 code.
Please see the result attached.
In the process of releasing the information for wave 12 (Nov 2022), an update of the previous waves was made. Therefore, if the inconsistency persists, I will recommend you download the information again.
If this is not the case, please let me know.
Hope this helps
Best wishes
Roberto Cavazos
Understanding Society User Support Team